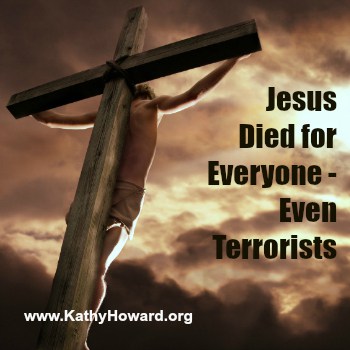 I woke this morning to the news of two terrorist attacks on Christian churches in Egypt. Dozens were killed and more than 100 injured while worshipping during Palm Sunday services. And this just days after a terrorist drove a hijacked truck armed with a bomb into a crowded shopping area in Sweden.
The attacks in Egypt specifically targeted Christians. As I prayed over the tragic events this morning I wondered about the terrorists. How do they justify their actions? How can they be so cruel? How could they dare to go right into God's house and attack His people? How does God feel about them?
Then I glanced at the bottom of my prayer guide. It reminded me to pray for the attackers too. To pray for their salvation. My first thought was: "They don't deserve Jesus. They don't deserve His forgiveness." But wait…
Neither do I. I don't deserve Jesus. I don't deserve His forgiveness. That's exactly why the Cross was necessary. We are all sinners underserving of a relationship with a holy God. We are all sinners, dead in our sins with no ability to save ourselves.
Today, Palm Sunday, begins the most holy time of the year for Christians. Friday marks the event that makes our eternal salvation possible – Jesus' sacrificial death on the cross. That is why Jesus came. To save sinners.
The apostle Paul put it this way:
Here is a trustworthy saying that deserves full acceptance: Christ Jesus came into the world to save sinners—of whom I am the worst. But for that very reason I was shown mercy, so that in me, the worst of sinners, Christ Jesus might display his immense patience as an example for those who would believe in him and receive eternal life. Now to the Kingeternal, immortal, invisible, the only God, be honor and glory for ever and ever. Amen. 1 Timothy 1:15-17, NIV
Paul called himself the "worst of sinners." Paul had persecuted, hunted, imprisoned, and killed followers of Jesus. It was his chief aim in life, his passion. To put an end to Christians. To blot out Christianity from the face of the earth. Paul was a terrorist. And Jesus saved him. Jesus chose him. And Paul's life stood as an example of Christ's unlimited grace and power.
If God could save Paul, God can save anyone.
He could save me. He could save you. He can save a terrorist intent on killing as many Christians as he can.
Here's a challenge for us this week. On the days leading up to Good Friday, let's pray not only for the end to terrorism, but let us also pray for the salvation of those who long to create the terror. May they become a display of God's immense love and grace. May they become a testimony to His glory.