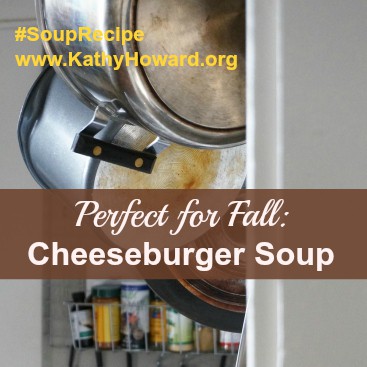 The air is crisp in Houston today with the early morning temperature in the upper 50's. Finally, it feels like fall.
Fall brings many wonderful things, including soup. So, I decided this was a perfect day to break from my usual kind of blogging and share one of my favorite soup recipes with you – Cheeseburger Soup!
I found the original recipe in a "Taste of Home" magazine about 25 years ago. (Yes, that's when I still got printed magazines delivered through the mail.) But I have adjusted it here and there to make it my own.
The whole family loves it. My kids even loved it when they were young, so chances are it will please your family too, no matter their ages. The recipe is below, but here's a PDF you can print!
If you make it, I'd love to hear back from you on how it turns out!
Cheeseburger Soup
½ pound ground beef
¾ cup chopped onions
¾ cup shredded carrots
¾ cup diced celery
1 tsp dried basil
3 Tbl butter
3 cups chicken broth
4 cups peeled, cubed potatoes
¼ cup all-purpose flour
8 ounces Velveeta, cubed
1 ½ cups milk
¾ tsp salt
½ tsp pepper
¼ cup sour cream
Brown the beef in a 5-quart pot. As the beef is browning, add the onions, carrots, celery, and basil to the pan and sauté all together. When beef is no longer pink and the veggies soft, add chicken broth and potatoes to the pot. Bring to a boil. Reduce heat, then cover and simmer until potatoes are tender, about 10-12 minutes. Meanwhile, melt butter in a small skillet. Add flour, cook and stir for 3-5 minutes or until mixture is bubbly. Add flour mixture to soup and stir until thoroughly mixed. Bring soup to a boil. Cook and stir for 2 minutes. Add cheese, milk, salt, and pepper. Cook and stir until cheese melts. Slowly add a small amount of the hot soup liquid to the sour cream and stir until smooth. Then stir sour cream mixture back into the soup. Makes 8 servings.