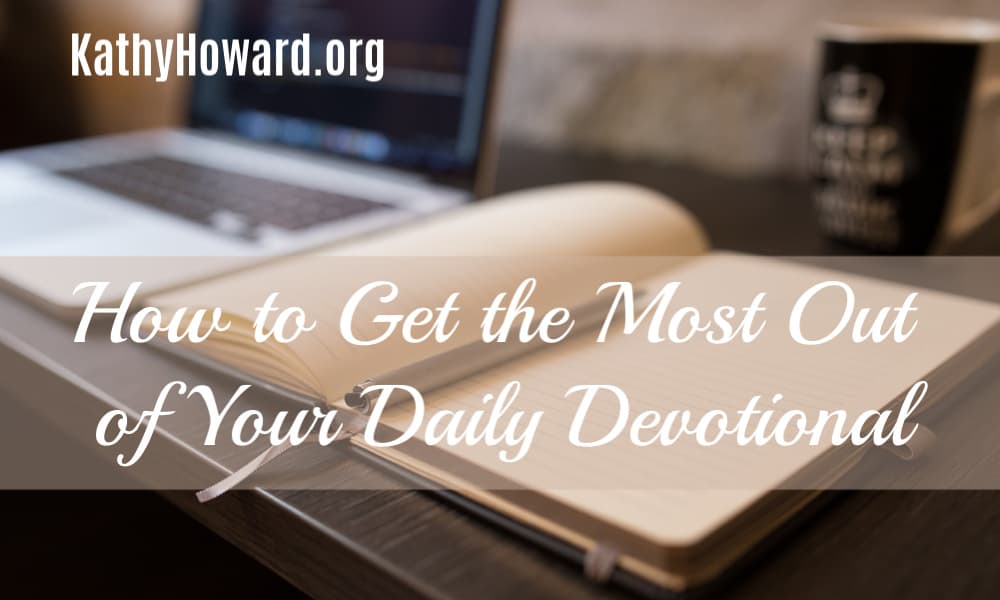 I have mixed feelings about using a devotional. I know, that sounds funny coming from someone who has written several devotional books, so let me clarify. Printed devotionals and daily online devotions can be wonderful guides and supplemental tools, but they should never replace time directly spent in God's Word.
Sadly, some of us use devotionals as our primary – and often only – source for time with God. If we choose to use a daily devotional, there are some things we can do to get the most out of them.
What is a devotional and what is it not?
A "devotional" writing – whether print or digital – uses story, commentary, or illustration to help the reader reflect on selected Scripture from God's Word. They can include elements like Scripture, thoughts for reflection, and prayer prompts. There is a wide-range of devotional writing with various purposes. Some devotionals focus on a specific topic and are designed to help the reader through a particular period of life (parenting, grief, marriage, etc). Some devotionals seek simply to inspire and encourage. Sadly, sometimes, these are no more than "feel good" thoughts that barely touch on Scripture.
Others, like the classic "My Utmost for His Highest," seek to guide the reader into thinking on and responding to the deep truths of God's Word. My goal for the "Deep Rooted" series of devotionals was to create a resource that would increase the reader's time in God's Word not replace it. The "Deep Rooted" books send the reader to the Bible and help them learn how to interact with, understand, and apply Scripture. (If you just need some structure, check out the Bible Reading Plans on my Free Resources page.)
There are a lot of good devotionals out there. As long as we use them correctly, they can be great resources. The following tips and suggestions will help us get the most out of your devotional books. (My devotional book "Deep Rooted" is a meaty devotional book that also equips you to study any passage on your own.)
4 Tips to Help You Get the Most out of Your Daily Devotional
Read the daily Scripture from your Bible – Many devotionals have the day's verses printed out in the book or on the web page. But  if we open our Bible and read it there, it gives the Holy Spirit opportunity to guide us to read further, to interact more fully with the actual text. And sitting with an open copy of God's Word can't be replicated.
Read the selected passage in its greater context – Some devotionals ask you to read just one or a few verses. But that can easily cause us to miss the biblical author's meaning. So, when you read the selected passage, back up to get the context. (For more on biblical context see "How Literary Context Helps You Understand the Bible" and "Four Things to Consider for Biblical Context.")
Listen to God first – Before you read the devotional author's commentary give the Holy Spirit a chance to teach you. Observe the text to see what it says. (See "10 Observation Tips for Better Bible Study") Ask God to give you understanding and to show you how He wants you to apply it to your life. The spiritual insight from someone else can be very helpful, but don't let it get in the way of anything God wants to show you Himself.
Journal your own thoughts – Some devotionals give you space to write. If yours doesn't, keep a notebook or bound journal with your Bible so you can record any insights, direction, and application God gives you. (For help on reading and studying a passage for yourself see "The 4 R Bible Study Method.")
I would love to hear your thoughts on how you use devotionals and how you work to keep them in the proper perspective.